Biometric Face recognition, fingerprint, and RF combined into a single device shall be deployed in offices, factories as a security system. The system has the ability to identify and alert when the person is not wearing a mask.
Devices of Biometric & Face Recognition Door Access System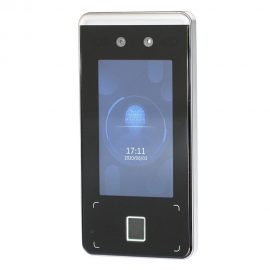 HIKVISION DS-K1T341AMF Face Recognition Terminal
DS-K1T341AMF series face recognition terminal adopts a deep learning algorithm, which helps to recognize the face faster with higher accuracy. It also supports multiple authentication modes: face/ card/ fingerprint authentication, etc.
HIKVISION K1T804A Fingerprint Terminal
Fingerprint terminal represents an access control with both time and attendance functionality. It can identify which user have registered on the terminal and what time he did. Authentication via fingerprint, card or a code.