A fire alert framework is number of gadgets cooperating to identify and caution individuals through visual and sound apparatuses when smoke, fire, carbon monoxide or different crises are available. These cautions might be enacted consequently from smoke finders, and warmth locators or may likewise be initiated by means of manual fire alert actuation gadgets, for example, manual call focuses or pull stations. Cautions can be either mechanized chimes or divider mountable sounders or horns. They can likewise be speaker strobes which sound a caution, which cautions individuals inside the building not to utilize the lifts.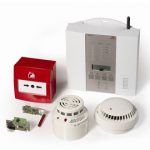 Components | Devices of fire alarm system
Smoke Detector
A smoke detector is a device that senses smoke, typically as an indicator of fire. Commercial security devices issue a signal to a fire alarm control panel as part of a fire alarm system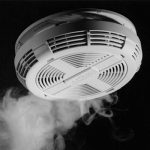 Heat Detector
A heat detector is a fire alarm device designed to respond when the convected thermal energy of a fire increases the temperature of a heat sensitive element. The thermal mass and conductivity of the element regulate the rate flow of heat into the element. All heat detectors have this thermal lag. Heat detectors have two main classifications of operation, "rate-of-rise" and "fixed temperature." The Heat detector is used to help in the reduction of damaged property. It is triggered when temperature increases.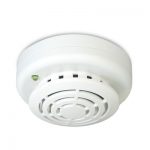 Beam Detector
An optical beam smoke detector is a device that uses a projected beam of light to detect smoke across large areas, typically as an indicator of fire. They are used to detect fires in buildings where standard point smoke detectors would either be uneconomical or restricted for use by the height of the building.
Manual Alarm Call Points
Manual alarm call points are designed for the purpose of raising an alarm manually once verification of a fire or emergency condition exists, by operating the push button or break glass the alarm signal can be raised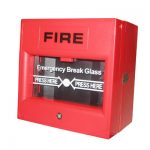 Strobe / Siren
Outdoor sirens and strobe sirens are often overlooked in favor of Fire alarm systems. Yet, the very point of an alarm is to make an emergency situation known. Mounting an siren and strobeserves Alerts the people to know that there is a fire .